Factoids
Interesting times
Crawley got promoted to League 2 in the right season as in real life. Beware though, 2011-12 should be hard for them but they'll come up again in 2014 if FM2008 predicted it right.
Going up and down
Barnet and Aston Villa demonstrate two opposites, with Barnet managing an incredible climb to the Premier League while Aston Villa have gone from bad to worse to non-league.
Two peas in a pod
Aston Villa and Blackburn have managed to rise and fall together, with Blackburn hanging in League 2 by their fingernails having seen Aston Villa go down.
Rocketship
Oxford managed an impossible feat when they went straight from non-league to winning back-to-back League 2 and League 1 and reaching the Premier League shortly after before settling in the Championship.
Ever present
Only one team has stayed in the same division in 100 seasons. Arsenal. Chelsea stayed strong for over 80 seasons before dropping like a rock.
Biggest gap at the top
+Sheff Utd won the Premier Division by 18 points over Tottenham in 2065-66.
+West Brom murdered the Championship in 2040-41 by finishing 27 points ahead of Tottenham.
+Wolves won League 1 in 2037-38 finishing 21 points ahead of Preston.
+Runaway train Oxford came from non-league to win League 2 in 2026-27 by finishing 16 points ahead of Millwall.

Biggest gap at the bottom
+West Ham never stood a chance in 2059-60 as they ended at the bottom of the Premier Division 20 points away from 19th placed Huddersfield.
+Aldershot finished bottom of the Championship in 2027-28 a princely 27 points from 23rd placed Fulham.
+Rushden nearly equalled that as they finished League 1 in 2017-18 26 points away from Scunthorpe.
+Cambridge were relegated from League 2 in 2035-36 with 11 points seperating them from second-to-bottom Chester.
FM2008 and onwards
This website contains data from a FM2008 campaign, started around new year 2008 and continuing from there for 120 seasons and counting.
I created the manager Jose Birgiro as a sort of homage to one Jose Mourinho, who is a serial trophy collector. In my history of playing Championship Manager and Football Manager since CM'93 I have never played less than 10 consecutive seasons, and managed to reach season 48 in CM'93 before crashing. Livid after seeing my hard work vanish I started again and reached season 49 to my joy only to see the game crash in the middle of it.
For me the game really starts as the old stars retire, finding the next new talent, nurturing the youth team, these are my Barcelona/Arsenal-esque values that keep me going until Computer Says No.
Previously some CM/FM games have mandated retirement, however during this save I got two contract renewals on the same day in 2042, to continue to manage Holland and Arsenal. I accepted the Holland offer but then the Arsenal offer vanished yet I was still in charge and have been for the 35 years since, now at the grand old age of 102.
I have been lucky enough to have gotten some awesome talents up through the youth team, world class strikers, defenders, midfielders and goalkeepers. This made my Arsenal a devastating force with 6 back-to-back titles, then as I relied too much on the youth team during lean years in the academy the success became sporadic before plunging head first into the transfer market to ensure future dominance.
The philosophy is now to give every youth player with a decent ability a chance to make himself part of the squad, but showing them the door if they don't cut it.Those who perform adequately get to hang around until they decide to leave themselves for want of more playing time. Some have come into their own in their late twenties, finally managing to secure a regular spot.
I have taken charge of several national teams, performing adequately but not spectacularly, with the exception of Holland where I lost the World Cup Final in 2026 to mortal enemy Germany.
When not working full time, enjoying family life with a spouse and two daughters, or playing video games such as FM2008, Lord of the Rings Online and World of Tanks, I tweet as @jbjensson as well as putting up free for fun prediction games for international tournaments at leikir.betra.is (@leikirbetrais) and am continuing work on the World Football Database (@worldfootballor). This little FM2008 website was a nice way to test out some backend stuff I've been programming and test the power of dojo-toolkit, some of which will live on in version 2 of the WFD.
Plus it seems I'm in a small minority of people having played over 30 seasons ever in any manager game. What is wrong with you other people!
Screenshots
Game status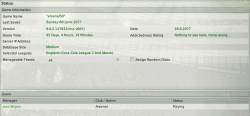 Game started around New Year 2008, still playing on occasions in late 2012.
Staff Profile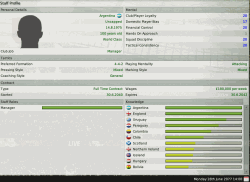 Age has maxed out at 100 although should be higher.
Contract expired over 40 years ago, a bug with same date national team contract.
Manager Information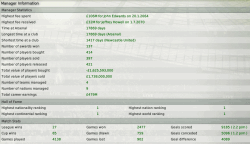 Value to display amount for bought players has exploded. Over 4000 competitive games played so far!
History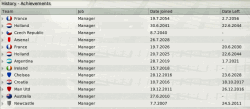 7 different nations managed in 9 spells as national manager. 4 clubs managed in 70 years. (composite image)
Richest Clubs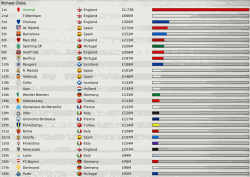 2.1b is maximum displayed, if it is breached then only shows value left after deducting 2.1b ! Need to throw money at clubs to keep it under the 2.1b, paying over the odds every time in an attempt to redistribute to lesser clubs.
Advisory
This website uses dojo-charts to display some graphics. Users of IE7 and older are adviced that their primitive browsers will take a long time to render them.